A stunning CATTIVA (NEW YORK), Purple, Black & Lilac, Floral Viscose & Silk Devore Lined Dress and Jacket, size UK14 (but please do see all the measurements and sizing advice that I have given below, labelled uS12) in excellent condition, worn once only to a wedding. 
My client has had the shoulder straps shortened at the back by 2" – the material is still present should it need to be reinstated. Although I can see no marks at all, I have allowed for another dry cleaning bill on top of the price so that you can have it professionally cleaned and pressed before a special occasion if you wish - no damage. Weight 350g
This gorgeous outfit has a black background with a purple floral pattern and a silk devore floral pattern in lilac and black. The outer material is a semi sheer viscose & silk material. The colours in the photos are quite a good match on my laptop...
The sleeveless Dress is fully lined in a black silky material. It has a very gentle cowl neckline at the front, with 1" shoulder straps (which my client has had shortened at the back by 2" – the material is still present should it need to be reinstated) and is slip on style with no zips or buttons.
The matching short Jacket is lined, with the exception of the sleeves which are ¾ length sleeves and have deep wide frill cuffs. The Jacket can either be worn loose with draping material at each side or fastened into a tie.
This is a superb classy, dressy outfit for any special occasion – I think it would make a wonderful outfit for the Mother of the Bride/Groom, Wedding guest, Cruise Wear, Dinners, Parties and Races etc.
Necklace not included.
If you are buying this for a special occasion why not recoup some of the expense and re sell after the event for someone else to enjoy...
Material – 70% Viscose 30% Silk – Lining 100% Polyester - Dry Clean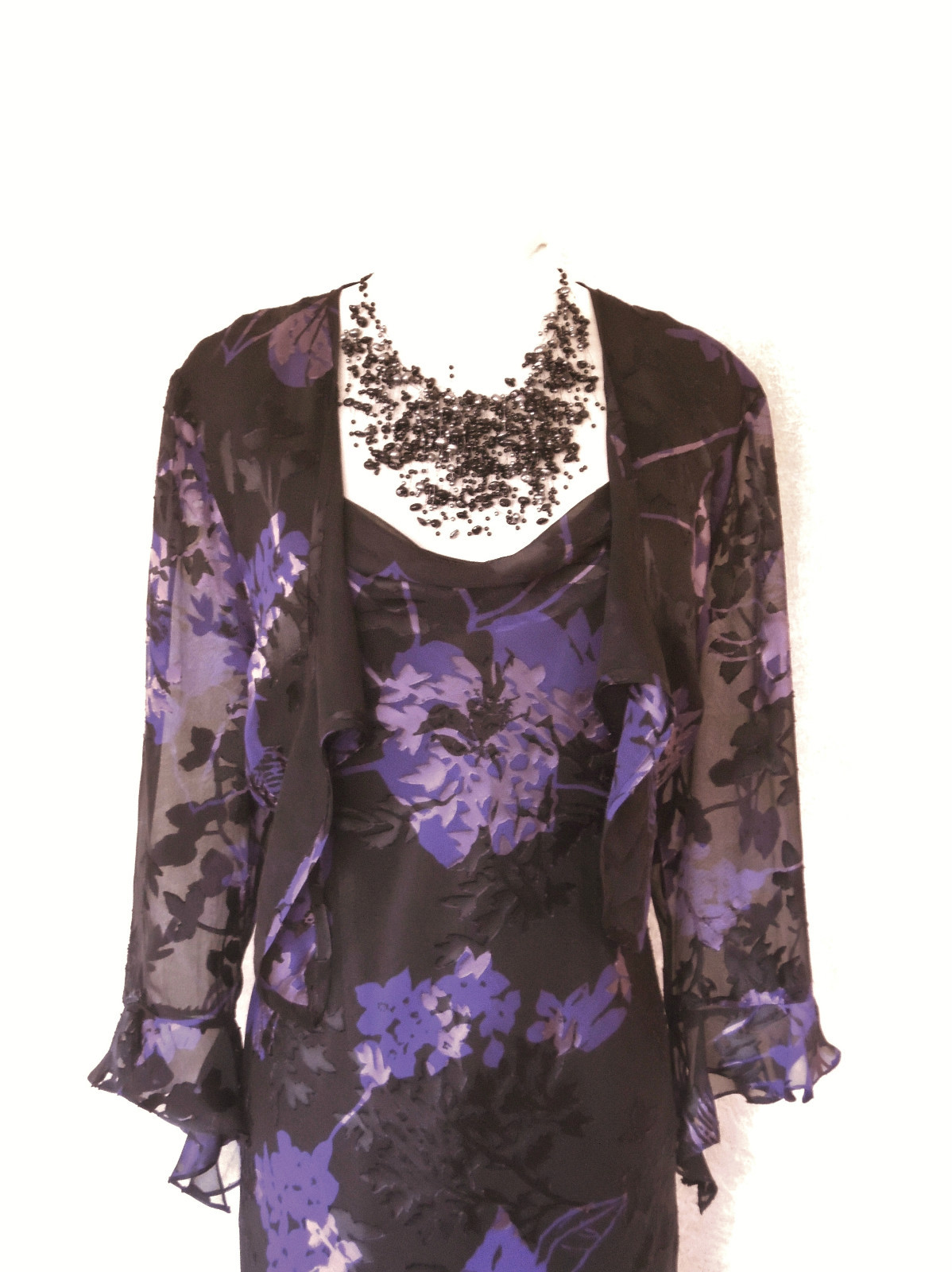 The size label states size UK14; USA12; EUR42 - the Outfit is cut on the bias – please do check all the measurements that I have given below, not forgetting to allow a little extra on top of your actual measurements for room to breathe, eat, move and sit...
If in doubt, I'd suggest measuring an item (rather than your body) that you have that fits you well and compare the measurements – it works for me!
Please don't hesitate to ask if you have any questions.
The Dress Measurements are taken from the Lining, the first measurement is with the garment laid flat – and the second measurement with outfit gently stretched into the bias – but not to the absolute max: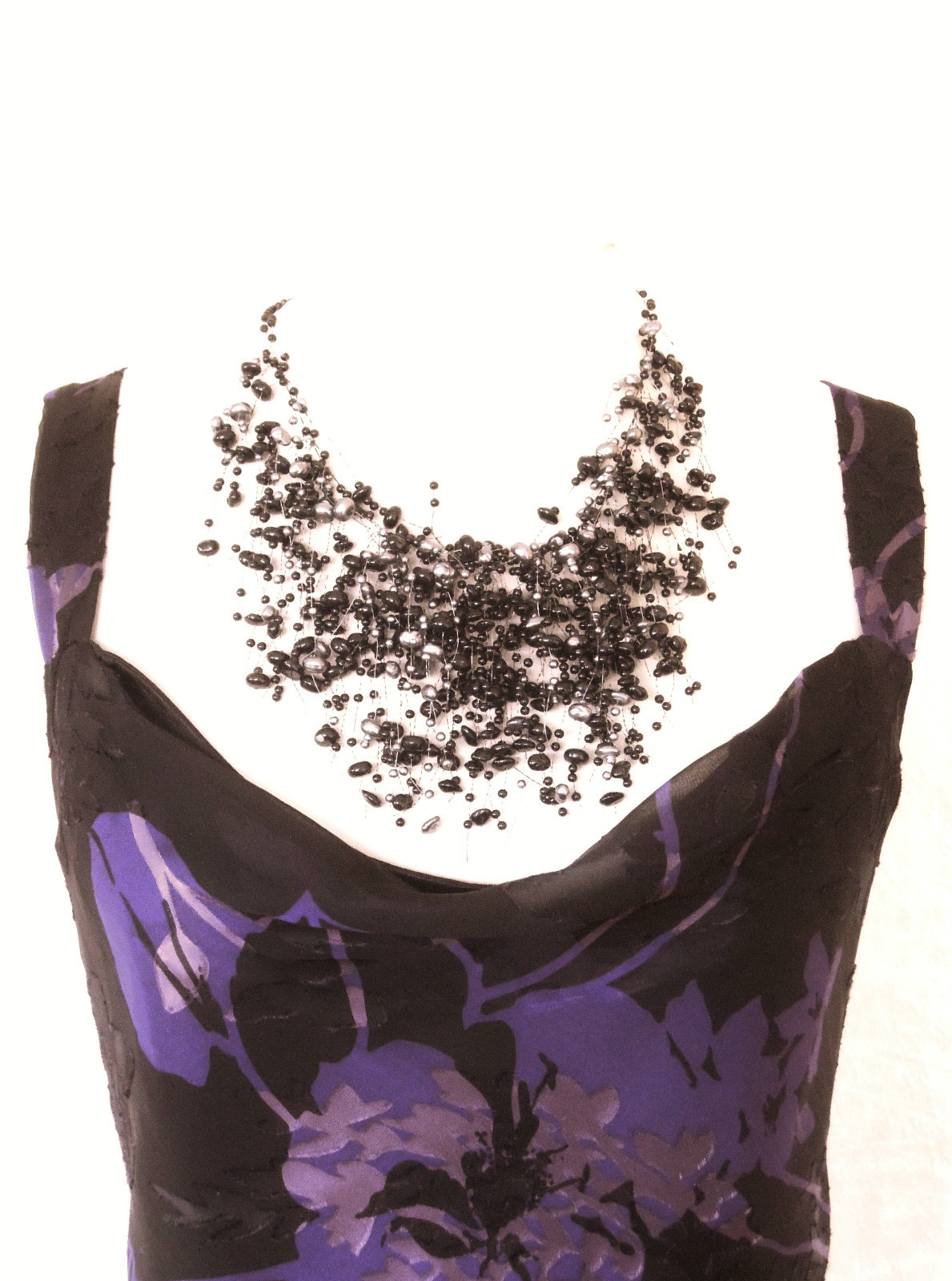 Dress Bust (under the arm) 38" - 40"
Dress Waist 34" - 36"
Dress Hips (8" below waist) 43" – 45"
Dress Length (top of shoulder strap to hem) 52"
Jacket Bust (under the arm) 40"
Jacket Sleeves (Shoulder to cuff) 19"
Jacket Length (Centre back neck seam to hem) 14.5"
Jacket Back (Across shoulder seam) 16"
If you have any questions please drop me an email